Hoop Girl: Hoop Dance for Beginners
Learn from internationally acclaimed hula hoop expert Christabel Zamor. In this DVD you will learn 35 mesmerizing hoop moves and 4 dance combinations. Learn each move in the studio, then watch hoopdance performances filmed at Maui's lagoons, waterfalls, rivers, cliffs, and beaches. Hoopdance for Beginners is a must-have, and a priceless educational resource. Bonus material includes a looping dance segment which can be used as visuals for any occasion. Guest appearances by Fire Groove! Approximately 80 minutes and plays in all regions internationally.
Christabel Zamor, founder of HoopGirl, is an international hoopstar and pioneer of the hoopdance movement. With the help of hula hoops, she transformed herself from a heavy set, shy academic into a professional dance performer and fitness guru. Since 2001, she has been teaching sell-out classes and performing internationally for clients such as Cirque du Soleil, Warner Brothers and Universal Pictures. Christabel hoops in television commercials and movies and does brand representation for trendsetting companies, such as HeartFM in the UK. She has instructed thousands of all ages and abilities and has a teacher training program which is licensing HoopGirl Workout teachers across the US, Canada, England, and Australia. She trains the master fitness teachers at Virgin Active, the largest fitness center chain in the UK. Christabel also trains a troupe of master hoopers, the HoopGirl AllStars, who perform at special events around the globe. Her HoopDance for Beginners DVD and HoopGirl Hoops are creating a worldwide hooping sensation. Christabel holds two graduate degrees and is certified by the American Aerobics and Fitness Association as a Primary Group Exercise Instructor.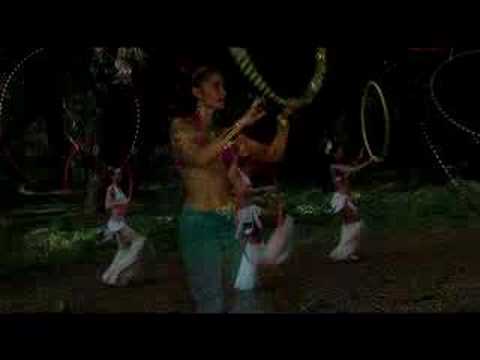 Updating...